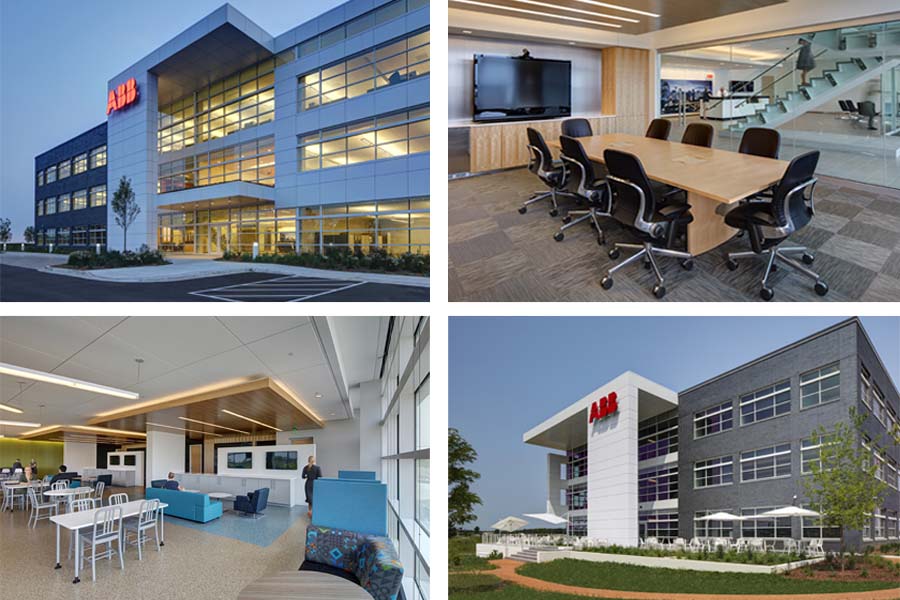 ABB Inc. - International Single Tenant Office Development in Innovation Campus Research Park
CLIENT OBJECTIVE
ABB is a global leader in power and automation technologies. Based in Zurich, Switzerland, the company employs 145,000 people and operates in approximately 100 countries. The firm's shares are traded on the stock exchanges of Zurich, Stockholm and New York. Represented by Studley, Inc. ABB sought proposals to meet the company's divisional headquarter office space needs in the Milwaukee area. They required a highly visible location containing at least 80,000 SF (with the ability to expand), a quality development reflecting their brand value of sustainability and a compelling rental rate. Additionally they needed the space by May 2014 so temporary leased space could be vacated without further economic impact. Their Request for Proposal was issued in September 2012.
OUR SOLUTION
Zilber Property GroupSM (ZPG) was able to leverage several areas of its corporate skill set to meet and exceed ABB's objectives. Using the extensive relationships established over the last 65 years we quickly identified the University of Wisconsin Milwaukee's Innovation Campus as the research park setting that a technology-driven company like ABB would find extremely attractive. Concurrently ZPG engaged our internal design and construction staff to begin the site planning and cost estimating efforts so we could quickly address the development's economics. ZPG also understood the community benefits of a firm like ABB and initiated discussions with the City of Wauwatosa regarding a public/ private partnership to recruit ABB. These initial efforts produced significant results. ZPG was able to secure a premier site at Innovation Campus, the City of Wauwatosa became an active partner in our recruitment efforts and the design and construction team produced a sustainable and exciting building concept. All of this was accomplished in time for the October 30, 2012 presentation to Studley/ABB. What is truly remarkable was that only about 18 months transpired between finalizing a Letter of Intent in December 2012 and ABB operating on site. This schedule is even more impressive when you consider that none of the research park infrastructure was in place when the lease was initially signed, the site was a highly regulated area and the focus of intense public interest and an aggressive public-private partnership agreement needed city council approval. ZPG was also able to accelerate the schedule since it is so well capitalized, and did not need bank financing in place to begin construction.
PROJECT OUTCOME
Zilber Property Group successfully organized and implemented a complex development program involving a university, several units of government and an active neighborhood association to produce a 90,000 s.f. LEED Gold, Class A Office Building. This was accomplished in a very short time frame so that the client's aesthetic, financial and schedule needs were achieved. ABB's new Regional Headquarters is a highly valued addition to Innovation Campus in Wauwatosa, WI and is providing a world class setting for ABB to continue its growth in this region.